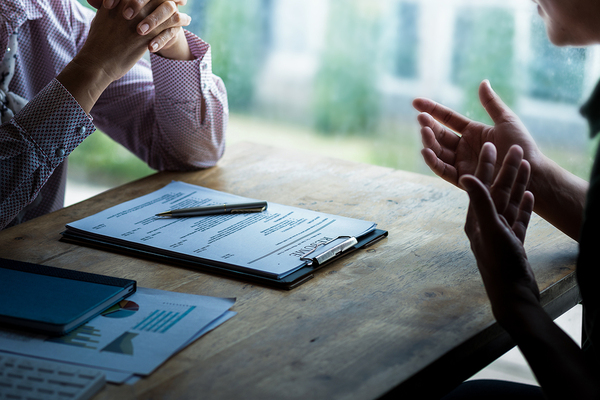 Resumes are meant to show your qualifications based on education and experience. But it can be good advice to build your resume keeping in mind the job you ultimately want rather than the one you have now or think you're well-qualified for.
Define Your Goals
It's not enough to want to advance in your career; you need to have an idea of what job you want next. Being specific about job goals will help you tailor your resume to that particular job or sector, so that resume screeners will see how you could be a good fit for that position.
If you have difficulty defining your goals and need more information, consider scheduling some informational interviews for positions you are considering. These interviews can not only help you narrow down your options and choose one position to target, but they can also help you meet people in those positions and make connections that could lead to a job in the future.
Educate Yourself
Taking continuing education courses or pursuing an advanced degree can be one step that leads to career advancement, and your resume should highlight the education you receive. Instead of just listing your original degree, you should list each course taken, if it is directly related to the job you want to pursue.
Be sure to use all the resources available to you, such as government-funded courses or tuition reimbursement, that can help you meet your goals without incurring too many expenses or getting into debt. There are many educational opportunities available, including online courses and open courses that anyone can take for free.
Non-Paid Experience
Your volunteer experiences can help your attempts to advance in your career in some cases. You don't need to limit your resume to paid positions only but can also list non-paid positions to showcase your skills and further your goals.
If you want to gain an executive position, for example, you could list a volunteer position on a charitable board to show executive functioning and skills that could translate to a corporate C-suite position. Seeking out these volunteer experiences can be a valuable way to work toward advancement and reach your goals.
Carefully Choose Skills to Highlight
When listing your experience, it's essential to highlight skills that point toward the position to which you aspire. If you want to be a school administrator, for example, you should focus on team leadership positions and projects where you created curricula that was used by other teachers.
If you can show that your work experience included some of the skills and experience you need for the next position you want to hold, you will have a better chance of getting the position than if you didn't take those interim steps in the jobs you have held up until that time.
Join our talent network to connect with companies looking for top talent like yours. GDH wants to work with you to reach your goals and get the job you really want.