When recently working with a Fortune 400 IT services company, we learned of critical needs within the organization that required important staffing that was not being met by existing partnerships.
At GDH Consulting, we pride ourselves on learning about our clients and their IT recruitment needs. Armed with these insights, we focus on delivering IT talent when it's most needed. We provide clients with talent to deliver critical work, both internally and for their customers.
Lack of Reliability
Our client faced a staffing dilemma. With deliverables looking for important customers and contracted service expectations for said customers, the company needed an influx of talented staff who could be brought up to speed quickly and get the work done.
Unfortunately, the staffing partners had been unable to provide the right talent and enough of it to get the work completed. Our tech client required a reliable collaborator that could provide them with qualified candidates in highly specialized skill areas quickly and reliably.
The needs were highly specific to the government sector and involved bringing in application developers, business analysts, electronic data interchange (EDI) developers, and project managers for clients located across the country.
GDH had been working with the company previously and, based on that work, was brought in to advise on the urgent issue at hand. Our teams collaborated to understand the work that needed to be done, the personnel budgets available, and the deadline pressures our client was facing.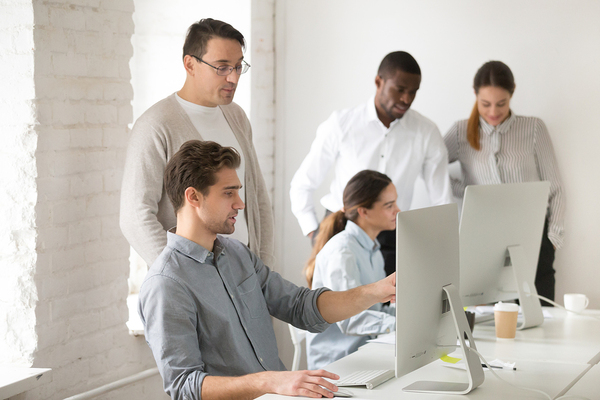 A GDH Solution
Solving complex, time-sensitive IT staffing challenges is where our expertise pays off. Our Government Services practice has extensive experience working with state, local and federal agencies and organizations to provide end-to-end project management, staff augmentation, and direct placement staffing services.
The GDH solution begins with our Recruiting Operations Center and our extensive nationwide network. We provide our clients with services and structure that finds and onboards IT talent quickly. With GDH your company can:
Match your position needs with high-quality, dependable and professional talent in multiple industries. We identify talent with a range of IT and project management skills, providing you with a deep pool of potential employees, whether you're looking for full-time help or project-based augmentation.
Tap into our multiple locations throughout the United States. We often work with clients with IT staffing needs at multiple sites. Our recruitment processes tap into talent across the country to deliver the skills you need where you need them.
Accelerate hiring. Our recruitment processes include continual relationship development with candidates, allowing us to interview and screen talent well in advance. When there is a specific need for staff, we can tap into our IT talent network to find candidates well qualified for the work our clients need.
For our IT services client, GDH provided the talent they needed to ensure their accounts were proceeding as scheduled. Project dates, many mandated in service level agreements, were met, providing their customers with critical deliverables.
GDH serves clients in many industries, from information technology to government services to engineering. Contact us to learn how GDH can help your company meet your critical staffing needs.