Working remotely was happening for millions of workers before the COVID-19 pandemic. It continues to be the predominant work situation for many, even as conditions go "back to normal" in other ways. If working remotely is a struggle for you, here are some tips to make it more successful.
1. Optimize your workspace.
Whether you have a home office or your work from the couch while your kids play nearby, setting up your workspace so that it works for your needs will help you concentrate better and can even prevent physical problems like eyestrain and pain in your joints and muscles.
Get a cushion or backrest to make it more ergonomic if you don't have a comfortable seat to work from. The best position for reducing eyestrain is to have your screen at slightly above eye level and an arm's length away. If you need a daily reminder to pay attention to your posture, set an alarm on your phone or one that pops up on the computer. If you are comfortable and well-positioned, you are likely to need fewer breaks and concentrate better, which will help your remote job performance.
2. Schedule your time and set boundaries.
One of the dangers of working from home is that work is always there, which means it takes more effort and intentionality to get away from it. Working according to a set schedule will help you get some distance from work during your off-hours. Your remote supervisor will know when to expect a quick response and when it might take until the next day for you to respond.
Similarly, those in your household need to know when you will be working and might not be as available for their needs. If you have very young children, it might show good boundaries to hire a sitter or send your kids to daycare a few days a week even though you're home so that you can get the work done as expected, in a reasonable amount of time, and without your stress level going through the roof.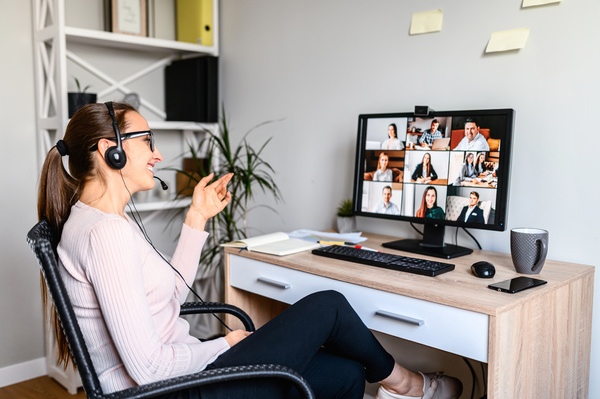 3. Be intentional about self-care.
Remote work at home makes it so easy to skip breaks, work through lunch, and neglect self-care like exercise. These items should be in your daily schedule and should be observed religiously if you expect to be at your best during the workday. Remote work can be less stressful than being in the workplace, but a lack of self-care can ratchet stress levels up and negate the benefits of this type of work.
4. Get dressed.
It pays to be ready for an unexpected video call or Zoom session by getting dressed as though it were casual Friday at the office, or more formally if your office seems to expect it. Working in your PJs may seem like the best of all worlds, but it will be embarrassing if your co-workers have to see you that way. After all, you definitely wouldn't show up to the office in your PJs.
5. Be proactive.
Communication is vital to a remote work arrangement, and the best communication is proactive rather than reactive. Handling situations before they become a problem, and in a sense doing what feels like overcommunicating is typically the best way to handle remote communication so that nothing remains uncertain or confused.
GDH offers many opportunities to connect with businesses that need talent--remote and in-person--like yours. Join our talent network to see how we can help you find your next great opportunity.