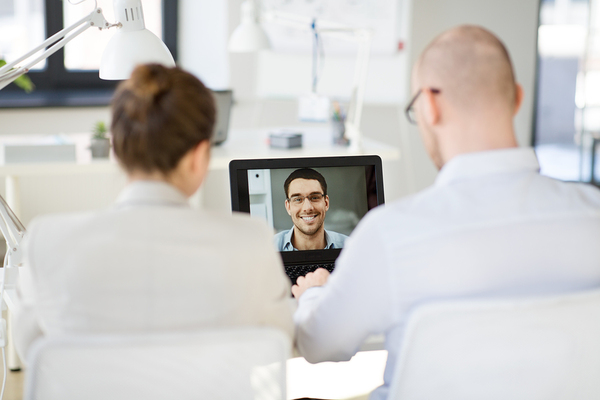 Millions of people across the United States and around the world are being advised to avoid group interactions and even shelter in place for the next few weeks, which could easily turn into a few months as governments try to stop the spread of coronavirus through communities.
In some cases, hiring will grind to a halt in response to economic conditions, but not all industries will be impacted negatively by shutdowns and other COVID-19 coronavirus response efforts. Employers will no doubt move to video interviewing as they look to fill positions safely and stay in compliance with local orders and federal guidelines that may prohibit visitors in some locations.
Here are some ways to quickly adapt to video interviewing:


Work out technical glitches. Not everyone you interview will have the same level of technical savvy or ability to use different tools on the technology available to them. It's helpful to know how your chosen method works and what some of the common problems are and to have a plan B when you have issues. GDH utilizes a variety of tools and platforms that make things easier and prevent problems so things go more smoothly.
Go asynchronous when it makes sense. For early interviews or when you need to see candidates perform a task like reading a script for a customer service call, it saves time and hassle to have candidates record themselves and send it to the hiring team. While dialogue may be necessary later on in the hiring process, you can use these asynchronous interviews to weed out candidates that you know won't work for the position, and you can do it when it's convenient for you rather than having to coordinate schedules with a number of people.
Take your time. Video interviews can feel further removed than ones held in person and can scramble some of the nonverbal signals that normally help hiring teams make sound hiring decisions. It may take a few video interview sessions to get a good read on a candidate and that's okay. Video interviewing can be faster overall because there's no travel time, so it will even out in the end.


GDH uses a platform for video interviews and can facilitate the process for hiring teams that don't have experience with this method. Contact us if you need help with video interviewing or other aspects of hiring and recruiting. We're happy to talk you through all of your options.